IVAN KUPALA: MAGIC OF FIRE AND WATER
Ivan Kupala's holiday - one of the most poetical and mystical event. In pre-Christian times in the night of June 21 (on old style) Ukrainians honored Kupala - god of a summer solstice, the protector of marriage and love. Nowadays we celebrate this day on July 7 (though some people still celebrate it on old style).
Our ancestors on Ivan Kupala especially honored two clearing elements: Fire and Water. Energy of Fire as symbolical manifestation of God of Sun, connected to energy of Mother-water.
Fire represented the active man's force which gets into the female water, bearing life. An example of a two elements union - the burning wooden wheel, an embodiment of the burning sun and the Universe movement, which is rolling down in water.
In honor of Ivan Kupala holiday, outside of villages the big fires were burnt up. Near fires celebration started: all people made a feast, with singing songs and dancing rond dances.
One of important ceremonial actions was jumping through the fire. Who will jump beyond all others - will be the most successful, more healthy and more beautiful. Guys with girls to consolidate the love, jumped through a fire together, with joined hands. And the woman, who didn't have any children, jumped through fire alone to recover.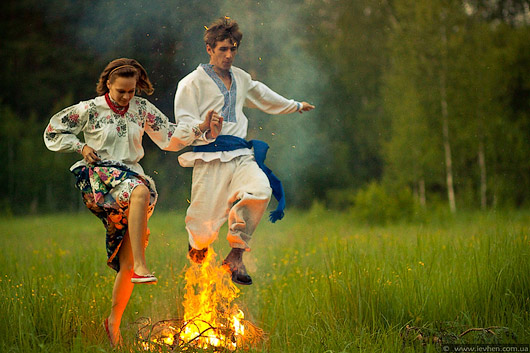 Jumps through a Kupala' fire have a number of signs. If you jump three times - year will be healthy, safe, happy, successful. If suddenly stumbled - to an illness. If a foot ruined fire - disagreement in a family will come. In this case, it is necessary to jump over the fire 9 times, mentally forming positive images.
Ukrainians believe, that fire on Ivan Kupala destroys all evil - diseases, misfortunes, poverty. For this reason an old, shabby clothes needed to be burnt. Often through Kupala fire the house animals were led through fire for protection it from a pestilence.
Having jumped through a fire, it was necessary to plunge right after it into the water - "ice and a flame" give the amazing cleaning effect.
Mass bathing - one of the main ceremonies of Kupala day.
At dawn it was important to wash face with morning dew. With the same dew the walls of the house needed to be sprayed to protect house from evil spirit and insects.
On Ivan Kupala surely took a steam bath in baths. Thus used brooms and water, infused on the Ivanovo herbs (Ivanovo call the herbs consecrated in temples on John the Baptist). Believed that the bath in day of Ivan Kupala promoted strengthening and restoration of vital energy and health. The custom was widespread to pour over passers in Ivanov day water. It became in order that during a hot time to cause a rain.



Posts

: 3


Join date

: 2015-08-16



I have never jump over the fire although i'm ukrainian )



Posts

: 7


Join date

: 2016-01-18



We, together with my beloved, jumped through the fire and there was a sign, that showed us - we willl be together forever. Now, we are happilly married.




Posts

: 3


Join date

: 2015-08-16



It's quite rare celebration. And very special. I also took part in it few years ago. Well, it's something. I can only say, if you hear of this event, I would recommend to attend it.



Posts

: 23


Join date

: 2016-01-18



I also took part once. My friends decided to orginise it. It is very interesting. And the main thing that everyone's mood rases up in a moment, because you have so many positive emotions.



Posts

: 37


Join date

: 2015-08-18


Location

: Ukraine





Similar topics
---
Permissions in this forum:
You
cannot
reply to topics in this forum